THIS PAGE HAS MOVED TO: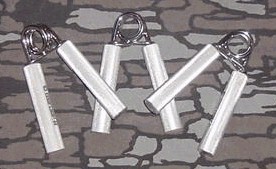 <![if !vml]>

<![endif]>
Develop crushing grip strength and huge forearms with these high quality super handgrippers. Starting at only $17.95 per gripper or $65.00 for all five levels for a limited time. www.heavygrips.com


Heavy Grips™ Hand-Grippers are perfect for:
Archery
Armwrestling
Baseball
Basketball BodyBuilding
Bowling
Birthday and
Christmas Gifts
Fencing
Fishing
Football
Father's Day
Gifts!!
Golfing / Golfers
Gymnastics
Highland Games
Hockey
Judo
Karate
Kayaking
Lacrosse
Martial Arts
Rowing
Rugby
Pole Vaulting
Polo
Racquet Sports
Shoot Fighting
Shot Put
Strength Training
Strongman
Strongwoman
Tae Kwon Doe
Track & Field
Tennis
Volleyball
Xmas Gifts!!

Bring your game to the next level with the Heavy Grips handgrips!