All prices are in US currency


We accept VISA and MASTERCARD!


Heavy Sports is proud to introduce the innovative new Heavy Handle™ Dumbbell
This innovative dumbbell with it's unique patent-pending design will allow you to add a totally innovative exercise routine to your current training regimen. By changing the weight to either of the two weight shafts, you change the angle of resistance which allows you to target the muscle group you are working on in a totally new way.
Visit www.heavyhandle.com for more information.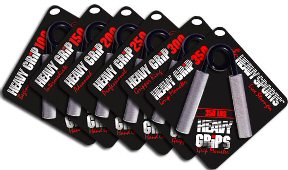 <![if !vml]>

<![endif]>-- LIFETIME WARRANTY!!
The Heavy Grips Handgrippers are among the toughest hand grippers in the World and the only one to offer Lifetime Warranty! These aluminum handled heavy-duty handgrips come in 50lb increments ranging from the Heavy Grip 100lb "Beginner" to the "Grip Monster" Heavy Grip 350lb hand gripper. If you're looking to develop serious hand strength for sports or just to impress your friends, then try the Heavy Grips Hand-gripper Series.
CLICK HERE FOR ORDERING INFORMATION AND CURRENT PRICING -- www.heavygrips.com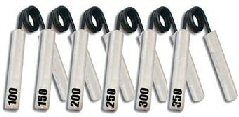 We accept VISA and MASTERCARD!
Click here for shipping information.

All prices are in US currency

Heavy Grips™ Hand-Grippers are perfect for:
Archery
Armwrestling
Baseball
Basketball BodyBuilding
Bowling
Birthday and
Christmas Gifts
Fencing
Fishing
Football
Father's Day
Gifts!!
Golfing / Golfers
Gymnastics
Highland Games
Hockey
Judo
Karate
Kayaking
Lacrosse
Martial Arts
Rowing
Rugby
Pole Vaulting
Polo
Racquet Sports
Shoot Fighting
Shot Put
Strength Training
Strongman
Strongwoman
Tae Kwon Doe
Track & Field
Tennis
Volleyball
Xmas Gifts!!

Bring your game to the next level with the Heavy Grips handgrips!