<![if !vml]>

<![endif]>
All photo's and images courtesy of Curtis Dennis and/or Bodybuilding.com
<![if !vml]>

<![endif]>

By: Curtis Dennis Jr
If you guys have been keeping up with the news in power lifting, then you know there is some excitement going about. It's been a while, but professional power lifting is starting to become a success as lifters from all around the world get a chance to compete and make a decent living at it. Well, there is news so lets get to it!!
Chuck Vogelpohl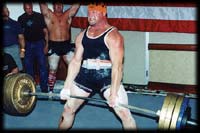 First off, back in early 2002, Chuck Vogelpohl became the first man under 300 pounds to squat over a 1000 in competition so it was needless to say that more was expected out of him this time around. He passed on his third attempt saving himself for the other two lifts, but his focus was so intense it could light up a city. He made a world record squat at 966.7lbs in the 220-weight class. Chuckie is getting close to the 2500 barrier when he did 2245 total.
(Editors note: Fred"Dr. Squat" Hatfield squatted 1014 at 245lbs at 45 years old in 1997)
Jesse Kellum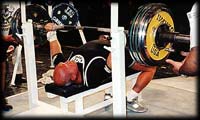 Elsewhere, Jesse Kellum after suffering defeat back in 2001, came back with serious vengeance and was lifting as if he was totally different lifter. Amazing on how much a year of training can help huh! Kellum had a record-breaking day. He managed to break the squat record twice, broke the bench record three times and broke the total record with at 2234!
It was obvious that he surpassed his competitors with sheer power but because of that he walked away with the big money!! Congrats, Jesse!!
Ano Turtianinen
Ano Turtianinen has been the leanest 275 lifter I've seen in a while. Even though he took second to Steve Goggins, it will only be a matter of time. He beat Goggins in the squat with 1019 making the record. Ano is also another lifter as well as Steve I see hitting 2500 mark soon. Ano also deadlifted 837.8 and tried for a 898.... like I said only a matter of time!! Paul Childress impressed me because he went for a unreal 1014 in the 308 class and had a nose bleed during the lift.
Goes to show you that nothing stops a powerlifter. Childress dominated his class with a 1014 squat, 622 bench, and 766 deadlift.
Garry Frank
Before I talk about Garry Frank and Andy Bolton's battle, I would like to point out a lifter who much has the biggest quads I've ever seen. Donald Thompson, Jr came second to Frank doing a 2425 total. I look for this monster to do over 1000 in the new year. He also on the heels of Frank who, like a juggernaut, keeps rollin' and rollin' and doesn't look like he's stopping though too. Frank was heard to weighing close to the 400 mark ...although it seems to have made him a monster in strength. Frank was also intent on breaking the deadlift record made by Andy Bolton. Bolton was the first to raise the bar to 927 and then Frank raised it even further winning his class with a deadlift of 931!!
It was said that Frank held the bar up for so long people thought he was going to go home with it!! I think he has a lot more for the deadlift and we'll see in the New Year. Frank also ended up with a 2562 total and folks it will only get higher!!!
Scot Mendelson
Ok, Scot Mendelson had his day at the bench attempting 782, which was easy for him, but because of his hips, his firs two attempts at 782 were red lighted. Mendelson buckled down though and managed 782 easy. Then it came...804.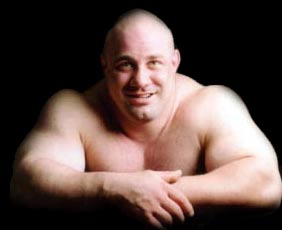 In an effort to show the world that he's the best bencher, Scot tries 804 but fails after so many attempts at 782. He accomplished at world record with 782. Folks on the net say that he has 800 because he did 782, three times. While this case maybe true, Ryan Kennelly is not to be counted out.
Ryan Kennelly
If anything when Ryan and Scot compete in March, it will be will close but if I had to choose who to bet on it will be Ryan!! The reason why is because Ryan has done 800 while Scot invents controversy over the net by talking like a professional wrestler. Scot calls out Ryan and Ryan accept it.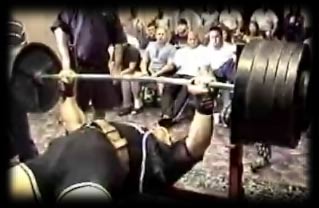 Ryan doing his 800 lbs bench!
Even though this helps to increase the excitement in powerlifting, others like Ryan just want to have fun! Ryan used to respect Scot in the past. To me, I think Ryan is going to "blow" away the competition proving that he's the world's MONSTER BENCHER!
Learn more about Ryan Kennelly, click here!
Click here for a Bodybuilding.com exclusive interview with Ryan!
Ed Coan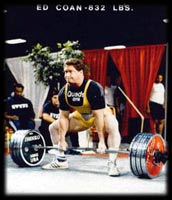 Among the lifters was the icon, Ed Coan himself. He suffered an injury back in 2001 and is getting back into contest form for the WPO Semifinals. I hope Coan gets back into the action this year. If he does, 275 lifters, watch out!! Also at the meet was Gunter Schlierkamp (who I think got shafted at this years Olympia).
Well, that's all the news from the sport of powerlifting and even though 2002 was a record-breaking year, 2003 looks to be the same if not more and we hope to see the first man to surpass 800 on the bench, which has not been done as of yet.
Until next time folks, max out!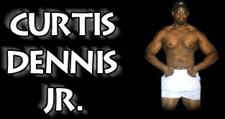 E-mail me @ hybridstrength@yahoo.com
Or check out my website @ http://zap.to/maxfusion
YES, I WANT TO READ MORE OF CURTIS' POWERLIFTING ARTICLES
Click here to find out more information on Curtis Dennis Jr.
Email Curtis Dennis Jr: ironhercules@hotmail.com

Website: NATURALFREAK ONLINE