March 15, 2003.
The Female Polish Powerhouse
UPDATE OCT. 2003-- Aneta wins the 2003 Worlds Strongest Woman!!
Click on the thumb-nailed pictures below of Aneta in Zambia.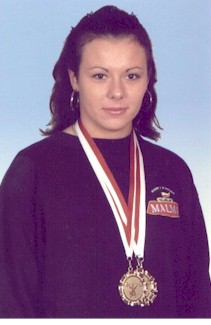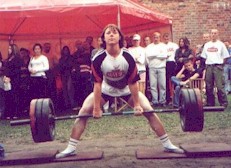 Profile of Aneta Florczyk.
Upcoming Polish Strong Woman and Powerlifting/Weightlifting Champion.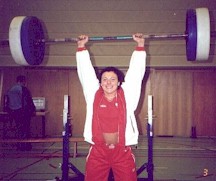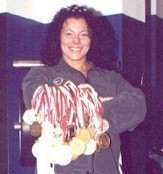 Age - 21 years old.
Weight - 73 kg(160lbs).

13 time Champion of Poland in Powerlifting
and Bench Press cometitions.

Aneta's Power Lifting Records:
Squat 207.5 kg.
Benchpress: 100 kg.
Deadlift: 213 kg (it was junior European record).
Best Total: 507. 5 kg.
All these results were from the Polish Championships in 2001.
In 2000 in Luxemburg she was v-ce Champion of Europe.
Aneta began competing in Olympic Weightlifting in 2002 and won the Polish Junior Championship and was second in the Senior Championship. She started in European Junior Championship in Italy.
Aneta's Weight Lifting Records: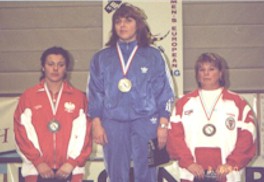 Snatch: 95 kg.
Clean and Jerk: 120 kg.
Aneta has only been training in strength sports for four years and has accomplished a lot in a short time and a young age. She is now interested in representing Poland in Strongwoman events, and although she has not yet competed, here's her typical training for the last few months:

Farmer's Walk: 50 kg. each hand, 120 m, turn - every 20 meters.
65 kg. each, 80 m, turn - every 20 meters.
Bar press: 50 kg, 12 times.
Viking press: (legs locked before arms) 65 kg, 15 times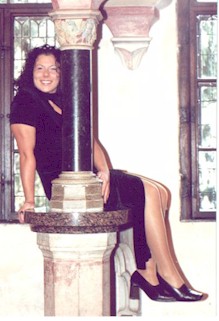 Heavy Sports Inc.wishes Aneta Florczyk all the best of luck in her bright looking future. We expect she will be successful at any type of strength event she enters, and look forward to seeing how she does with her first Strongwoman challenge.

The picture at right shows beautiful Aneta posing while wearing an evening gown, which should help to shed the untrue stigma that female strength athletes are not as feminine as other women.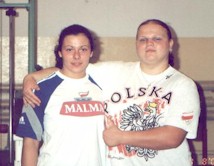 Aneta with Agata Wrobel (World Champion in Weight Lifting)
UPDATE: May 25/2003
Aneta competed in the Built Solid Strongman/woman competition on May 17th and took 1st place!! Congratulations to Aneta and her teammate Jaroslaw Dymek who also took 1st place. The pictures below are of Aneta and Jaroslaw at the competition in Columbus, Ohio.








Below, Aneta's Polish friends training for Strongman Competition.