Heavy Sports is proud to introduce the innovative new Heavy Handle™ Dumbbell
This innovative dumbbell with it's unique patent-pending design will allow you to add a totally innovative exercise routine to your current training regimen. By changing the weight to either of the two weight shafts, you change the angle of resistance which allows you to target the muscle group you are working on in a totally new way.
Visit www.heavyhandle.com for more information.
JustAskMarc --Weightlifting and bodybuilding Q&A, tips and advice. "Just Ask Marc's" Mark David offers fantastic advice on weightlifting workouts, bodybuilding tips, weight gaining diets and weight-lifting routines.

<![if !vml]>

<![endif]>Clay "Grip Monster" Edgin gives step-by-step instructions on how to tear phone books!!



Clay shows you how to perform this legendary feat of strength and makes it look so easy!!

Want to make the most of your handgripper training? Grip Guru Steve Gardener has literally wrote the book on training with heavy-duty handgrippers.
CLICK HERE FOR MORE INFORMATION ON THIS E-BOOK.

Amaze Everyone!!

Learn how to tear a deck of cards in half-- by Clay Edgin
Red, White and Blue Fitness-- The worlds newest source in physical preparation and fitness for firefighters, law enforcement, military and just plain ol' hard core civilians.

Inspirational Story:
See how part-time firefighter Ray Herbert lost 110lbs and kept it off for over 3 years.
He is also competing in the Fireman Games and we will be following his unorthodox training.





Articles by Bodybuilding Champion Guy Grundy.(Mr. Australia)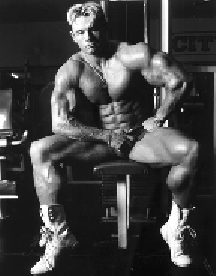 <![if !vml]>

<![endif]>
Develop crushing grip strength and huge forearms with these high quality super handgrippers.
Click here for Current Pricing. www.heavygrips.com LIFETIME WARRANTY

Heavy Grips™ Hand-Grippers are perfect for:
Archery
Armwrestling
Baseball
Basketball BodyBuilding
Bowling
Birthday and
Christmas Gifts
Fencing
Fishing
Football
Father's Day
Gifts!!
Golfing / Golfers
Gymnastics
Highland Games
Hockey
Judo
Karate
Kayaking
Lacrosse
Martial Arts
Rowing
Rugby
Pole Vaulting
Polo
Racquet Sports
Shoot Fighting
Shot Put
Strength Training
Strongman
Strongwoman
Tae Kwon Doe
Track & Field
Tennis
Volleyball
Xmas Gifts!!

Bring your game to the next level with the Heavy Grips handgrips!