| Hand Grippers | E-Books | Home | Shipping Info |
<![if !vml]>

<![endif]>


Heavy Sports is proud to introduce the innovative new Heavy Handle™ Dumbbell
This innovative dumbbell with it's unique patent-pending design will allow you to add a totally innovative exercise routine to your current training regimen. By changing the weight to either of the two weight shafts, you change the angle of resistance which allows you to target the muscle group you are working on in a totally new way.
Visit www.heavyhandle.com for more information.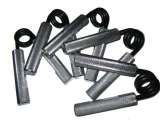 <![if !vml]>

<![endif]>
Develop crushing grip strength and huge forearms with these high quality super handgrippers.
Click here for Current Pricing.
www.heavygrips.com LIFETIME WARRANTY Check out the summer specials. Click here.
Check out the reviews of our Heavy Grips™ hand grips by the readers at Testosterone Magazine.





Click here for more information on these informative E-Books from Elite Fitness
Underground Intelligence from Elite Fitness -- E-books and special memberships.




All orders are in US funds

Click here for shipping information.

Strength Books | Hand Grippers | Home | Shipping Info |