Click here for more information on Athletes of the months and how to submit.
<![if !vml]>

<![endif]>
<![if !vml]>

<![endif]>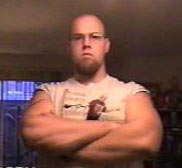 23 Yr-old Clay Edgin
Congrats to Clay on taking 2nd place in his first Strongman Competition in March 2004!! Well done!!

STATS:
6'6"

320lbs(Clay started training at 370lbs, went down to 280 and is gaining muscle to a massive 320!!)

23 years old

Married with one daughter

Works at a law office

Athletic specialty: Grip training and Strongman.

Hobbies: Making medieval armour, crushing all sorts of makes and models of hand grippers, tearing cards in half and rolling up frying pans!!

In Clay's own words:
I'm currently 23 years old and have been lifting weights for a little over a year now. Prior to lifting weights, my main hobby was making medieval armour with my dad and we used to sell a lot of it on a website that I created. Oddly enough, there was enough of a demand for it that we were always busy in the shop and it helped put a couple bucks in my pocket now and then, although I did it mostly for personal satisfaction. Once I got started down the path of weightlifting and physical development, there was no turning back!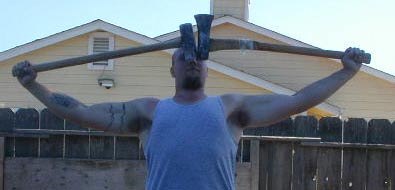 I received a copy of "Dinosaur Training" by Brooks Kubik for Christmas in 2002 and decided that now was the perfect time for me to get into shape. I really liked the idea of lifting awkward, heavy objects and specifically training my grip was something new to me. Like everybody, I had made a New Year's resolution to lose some weight. I was currently carrying 370lbs on a 6'6" frame and didn't like it. I signed up at a gym two days later and started doing a low carb diet on January 7, 2003. My lifts were embarrassing – 155 bench, 245 squat, 365 deadlift, and 95lb overhead press. I kept a training journal to keep track of my progress and weight.
After the first month, I had lost 30lbs in fat and started making good gains in the gym doing heavy weights for low reps. On Valentine's Day, my wife said "we don't have much money to exchange gifts with and I don't know what you want, so why don't you spend $20 and get whatever you want." I purchased a Trainer gripper and closed it first time with either hand. Then a month later I bought the #2 and closed it with my right. A month later I bought the #3 and #4 and by this time was closing my filed #2 with either hand. I closed my #3 the first day I tried it after about a dozen attempts, but it took me about 3 weeks to get consistent enough to certify.
The guy who certified me was a local highland games thrower, so I started practicing with him a couple times a week. I entered my first highland games after about 3 weeks of practice and came in 3rd in the B Class. I was really surprised by the welcoming atmosphere these guys in kilts had. At my first games, I met Dale Harder who has been collecting information about athletes for many years and has put out several editions of his book Strength and Speed. He was somewhat impressed with my grip strength as it measured 100kg on his dynamometer and we spent a good part of the day squeezing grippers and talking strength. Dale and I kept in touch via email and I went up to his place a few times to try various feats of strength and have "grip meets" where other guys would try to do things as well.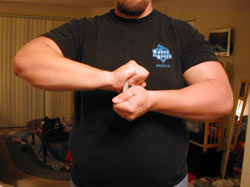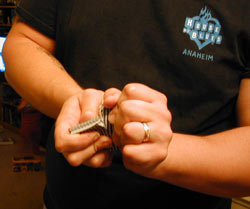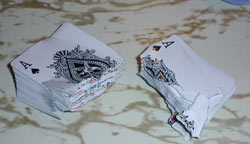 Clay tearing a deck of playing cards in half!!! Wow!! Click here and Clay will tell you how!
Over the course of the year, I started finding more places online where people were talking about dinosaur training, grip training, and strongman training, and I become completely hooked. I went onto a bulletin board and asked about how I can learn about strongman training in Northern California and ended up meeting Fred Cordova, Jon Andersen, and Steve Brickman. Fred won last year's California's Strongest Man, and Jon recently won North America's Strongest Man. I made the 2 hour drive one Sunday morning to learn how to flip tires, carry farmer's walk implements, and walk with 600lbs on my back. This was for me!!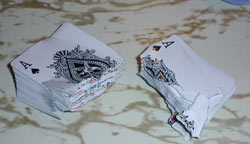 In early October 2003, I was taking a business trip to San Diego and posted on the Grip Board asking if anyone in the area would like to get together for a grip meet and met Michael Wayne, Mike Matelich, and Dave Erives. I don't know about the rest of those guys, but I learned more in that weekend with them than I did on my own for the six months prior to our meeting! We closed lots of grippers, hoisted blobs, tore decks of cards, and ripped phonebooks. And we demolished a lot of beer and pizza. Later that month, Dave, Michael, and I would meet again at Dale's place to try Dale's new Inch dumbbell replica. Dave got it the highest off the ground by clearing both bells a couple inches, but all of us had a good time. I later bought the dumbbell from Dale and have been playing with it for a couple months now. I can lift it to lockout now more often than not.
On February 15, 2004, one year and one day after I first touched a gripper, I closed the Captains of Crush #4 gripper for the first time. I am currently working towards getting certified on it and putting my name on an elite list of crushers. Then I think I may be done with the grippers until the HG500 comes out!

(Pic at left is of a still frame from a video Clay took while lifting the "Inch"replica dumbbell.)
Since my strength journey began on December 27, 2002, to today, 3/4/04, I have lost 92 pounds (but gained about 30 of it back – bad dog!), increased all my gym lifts to a 300lb bench, 425lb squat, 555lb deadlift, and 250lb overhead press. These lifts are all without support gear except for the squat which I wear a belt for. I have also done deadlift lockouts with 765lbs without straps and carried 300lbs per hand on 2" handles in the farmer's walk. I've also made some incredible friends ranging from garage gym gorillas to professional athletes and have probably traveled 30 hours and 1,000 miles just for strength competitions of some sort. Despite having come this far, I've only taken a couple of steps down the path of strength and physical development and I look forward to dwarfing these accomplishments by pushing myself to the next level and beyond.
Here is a video of Clay doing the farmer's walk with 300lbs per hand while holding onto 2" thick handles:
I am very proud to be the Heavy Sports athlete of the month!

Update October 2004:
Clay ripped this deck of cards wrapped with 3 layers of duct tape!
AWESOME!!

Check out this video of Clay "rolling up" a frying pan!!
Editor's Note March 2004:
Heavy Sports Inc. is proud to have Mr. Clayton Edgin as our Athlete of the Month for March 2004. When Clay first contacted me and reported that he had closed our Heavy Grip 300 gripper, I knew that he took his grip strength very seriously, as only men with very well trained grips have closed the HG 300 hand gripper.
I found it very impressive that he was interested in "old-time strongman feats-of-strength" such as tearing playing cards in half, rolling frying pans, and bending nails and horseshoes. I was dumbstruck to find out that Clay was doing all this at only 23 years-old and that he had lost 92lbs when he chose his new strongman lifestyle. He is also a proud father to a young daughter and a dedicated husband to a supportive wife, which is very important when involved with any type of strength sport, where the only real payoff is knowing that you've gained the respect of your peers and meeting or exceeding personal strength goals.
Clay will be writing articles on how to accomplish different feats of strength, starting with his article on how to tear playing cards in half. I've tried it many times while training for armwrestling, and ripped phone books, but tearing a small deck of cards is an unbelievably tough feat. Keep an eye on our Emag for articles from Clay, like this one teaching you how to tear a deck of playing cards in half. Heavy Sports sees a great future for this young Strongman!

--Bill Morrison
President-Heavy Sports Inc.