Click here for more information on Athletes of the months and how to submit.
<![if !vml]>

<![endif]>
<![if !vml]>

<![endif]>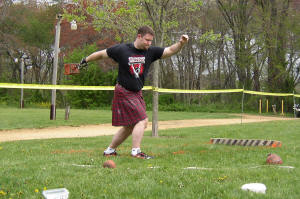 Here's Albert Yodakis throwing the 56 lb'er while competing in the
American Scottish Games. Al is ranked #1 in New Jersey.
The following profile was submitted by Al's wife Janeen:
Albert Yodakis is an incredible student of training heavy. He has competed in decathlons at LeHigh University and was a great thrower. He stumbled upon the American Scottish Highland Games when a friend of his in college asked him to go to an event that was close to the college. Albert fell in love with the sport, as it demanded great strength and athleticism. Plus, he could where a kilt! LOL (Just kidding! However, he does indeed compete in a kilt.)



Hook, line and sinker. Almost a decade later he still loves the sport and is ranked #1 in the state of New Jersey as an amateur and 60th in the Nation! He is a true student as I said. He even makes his own implements. Al has a 600 lb tire in the backyard, a log for overhead presses, an atlas stone that he made, a weight for height bar and lots of other "BIG BOY TOYS." Everyday, before he goes to the gym, he either watches Louie Simmons tapes or Highland Game tapes to learn more about training and to pump himself up.



Albert is 6 ft. 1 inch tall and weighs about 245lbs. He trains hard and keeps a daily log of exactly what he does. Everyone in the gym thinks he's crazy, as he trains with chains, 2x4's, bands and other crazy things, but he gets results. His favorite shirt say's something like, "Get your biceping, triceping ass out of my squat rack." He hates it when some guy is using "his" (like he owns it or something) squat rack.  But, Albert is also the first guy who would stop what he was doing to help someone to ensure proper form or technique.  He has helped many people in and out of the gym as far as training and throwing is concerned.  Many would tell you that Albert is one of the nicest guys they know.

Albert is a (PE) civil engineer by day and a gym monster by night. I love it, as I am a workout nut myself. Before I became pregnant with our daughter, I used to compete in the games with him.

As far as titles are concerned, Albert won the big New Jersey Amateur contest this past year at the PNC art center and he also went undefeated in 2003 after competing in several contests along the East Coast. He aspires to turn pro someday and knowing my husband, he will. He has to be one of the most determined and dedicated people I know. Once he sets his mind to something he does it.

By Janeen Yodakis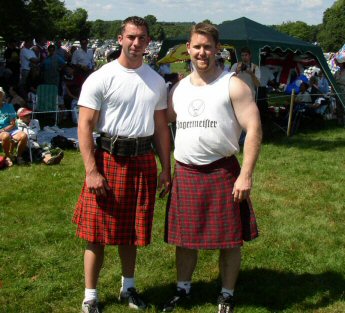 The pic at left is of Al and his throwing buddy, Brian Snedden(right).
Al would like to thank Jersey Shore Fitness in Bradley Beach, NJ. Greg and John there run a great gym, and allow powerlifters and other strength athletes to train (a rare thing these days) and also have great cardio and fitness equipment for people that just want to get in shape.
(Editors note: Congratulations to Al on being our first Athlete of the Month! Al is what Heavy Sports is all about. As he says "We all work so hard, with very little reward. Its for the love of the sport, no Nike contracts here." The next time you see a baseball or hockey player holding out on the season because he was only offered $8 million instead of $10 million, think of the great athletes like Al and Brian who are into it for the love of the game)
Want to be the Heavy Sports Athlete of the Month? Click here for info!!

Heavy Grips™ Hand-Grippers are perfect for:
Archery
Armwrestling
Baseball
Basketball BodyBuilding
Bowling
Birthday and
Christmas Gifts
Fencing
Fishing
Football
Father's Day
Gifts!!
Golfing / Golfers
Gymnastics
Highland Games
Hockey
Judo
Karate
Kayaking
Lacrosse
Martial Arts
Rowing
Rugby
Pole Vaulting
Polo
Racquet Sports
Shoot Fighting
Shot Put
Strength Training
Strongman
Strongwoman
Tae Kwon Doe
Track & Field
Tennis
Volleyball
Xmas Gifts!!

Bring your game to the next level with the Heavy Grips handgrips!